Spring is finally here, and it's time to get outdoors and enjoy your outdoor spaces! For millions, this means turning on the grill to cook and entertain for your family and friends. If you are looking to invest in a high-quality gas grill for your deck or patio, Tri-County Hearth & Patio has the gas grill you're looking for! With a 20,000-square-foot showroom, we are certain you can find the gas grill of your dreams at Tri-County Hearth & Patio!
Blaze Gas Grills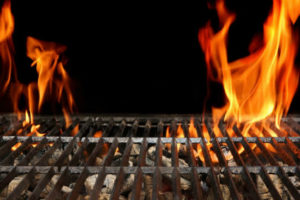 Blaze Gas Grills are made from stronger, thicker materials than their competitors. They offer unparalleled durability and quality. The cooking surfaces are made from thick, professional-grade stainless steel. They also pride itself on gas cooking technology. It works to combine the right amount of fuel and oxygen to create a hotter, more efficient flame. This means that you get a professional sear on your grilled foods. It also means your grill burn far less fuel than most gas grills.
They come in a variety of sizes and styles. Whether it's traditional mobile grill varieties, pedestal grills that can be installed in place, standalone grills made for outdoor kitchens of all shapes and sizes, we have what you are looking for. They even have portable grills that offer the performance of larger gas grills, and you can transport them easily for picnics, beach cookouts and tailgates. With a host of high-end options including illuminated controls, lighted interiors, infrared burners, drip trays, easy ignition, heat zone separators and more, the possibilities are endless.
Napoleon Gas Grills
Napoleon offers stunning, stainless steel gas grills in over-sized options for serious outdoor chef. They come with up to six burners including infrared burners for fast, professional grade heat. You can also be built them into an outdoor kitchen or use them as a standalone grill. They come with many cooking accessory options including rotisseries and wood-chip trays for smoking. You can also add side burners for cooking smaller dishes, and they have individual burner controls to control the heat for the different cooking zones on your grill. You can even upgrade your Napoleon Gas Grill with a heating rack, foldaway side shelves, interior LED lights, a condiment rack, drink holders and trademarked WAVE cooking grids.
Grilling season is finally here! If you live in the Waldorf, Maryland area, and you are looking for a gas grill, then you should stop by the Tri-County Hearth & Patio Showroom. Our grilling experts will show you all of our gas grills, and we can also help you choose the perfect gas grill for your home.