Hearth and Stove Store » Grills » Gas Grills
Shopping For Convenient Gas Grills That Deliver Fast & Flavorful Results? We've Got 'Em
Grilling doesn't have to be time-consuming — it can be quick, impulsive, and convenient. And with the gas grills from Blaze Grills and Napoleon, you don't have to sacrifice versatility or flavor.
We're Proud To Offer The Full Line Of Beautiful & Durable Blaze Grills!
Are you shopping for a high-quality, stainless steel gas or charcoal grill that looks beautiful, is easy to use, and delivers professional, flavorful results? Look no further. Here at Tri-County Hearth & Patio, we offer the full line of Blaze Grills! These stainless steel beauties are known for their unparalleled quality, commercial quality burners, and sleek and durable stainless steel design. Enjoy features like:
Illuminated controls

Full-width drip trays

Double-lined grill hoods

Heat zone separators

Easy ignition

Infrared burners

Interior lights

And more!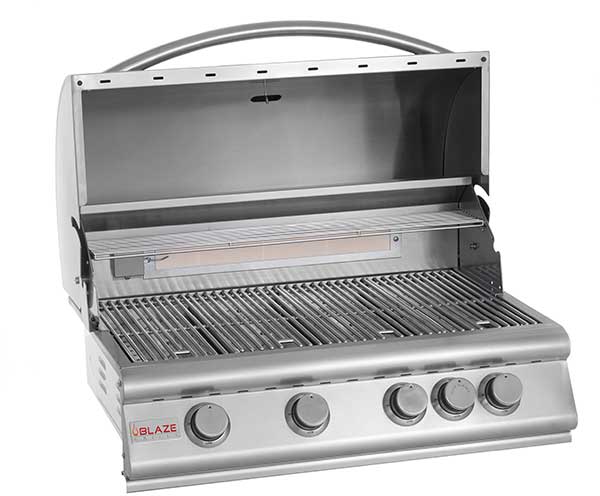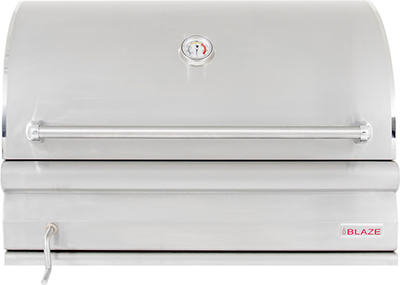 Whether you're looking for a cart/freestanding option or a cart-less option for your outdoor kitchen, you'll find it here at Tri-County. Want to see the stunning 32 inch 4-burner up close? Stop by our showroom today!
Shop Napoleon Gas Grills
If you're looking for a grill that will give you the ultimate grilling experience and take you from play to pro, check out our durable, high-quality and head-turning stainless steel gas grills from Napoleon.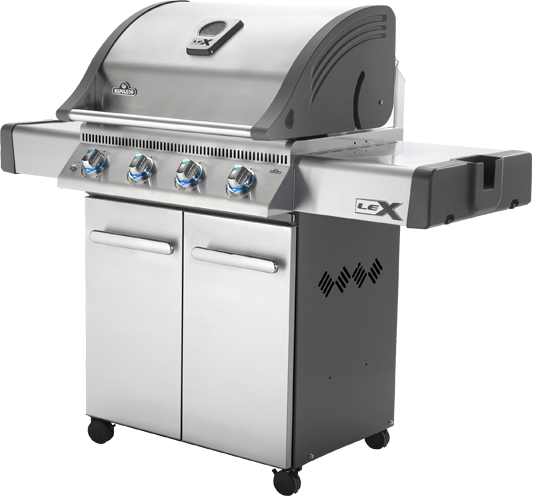 Lex/Mirage 485
The Lex/Mirage 485 from Napoleon provides 815 square inches of cooking space (burgers for everyone!) and features infrared side and rear burners (5 burners total). Each burner is separately controlled and backlit by blue LED lights with 30,000+ hours of bulb time — so whether you're cooking a roast, a burger, a cake or a steak in the midday sun or the middle of the night, you're sure to have an enjoyable experience.
Hungry and in a hurry? Another major bonus is that the side burner can be ready to use in seconds, allowing you to whip up a quick meal without firing up the entire grill. And with the 485's WAVE™ rod grids, stainless steel sear plates and tapered grease pan, grilling and cleaning is easier than ever before.
The Lex/Mirage 485 also features convenient side shelves and an integrated ice/marinade bucket and cutting board — with features like these, gone are the days of running in and out of the house to prep, marinade or grab a drink.
If you're looking for a grill that does it all at a fraction of the price, you'll love the Lex/Mirage 485.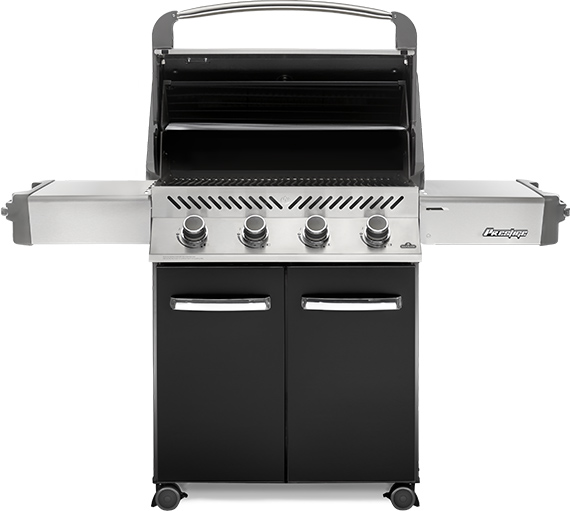 Prestige 500
Constructed from high-quality 304 stainless steel and decked out with i-GLOW™ control knobs, a blue LED-lit control panel and chrome details, the Prestige 500 gives grilling in style a whole new meaning. But it's not just the beauty of the 500 that makes it one of the best-selling Napoleon grills – it's the functionality and craftsmanship.
With the 500, you'll enjoy 6 burners (4 main, 1 infrared rear, 1 infrared side), ample side shelving, an integrated ice bucket and cutting board, and 900 square inches of cooking space. Other great features include: condiment rack, drink holders, warming rack, rotisserie kit, WAVE™ rod cooking grids, sear plates and an infrared SIZZLE ZONE™.
Want to use your Prestige 500 gas grill as a smoker or charcoal grill? Not a problem! Simply add wood chips or charcoal to the smoker tube or tray! It's hard to beat the versatility of the Prestige 500!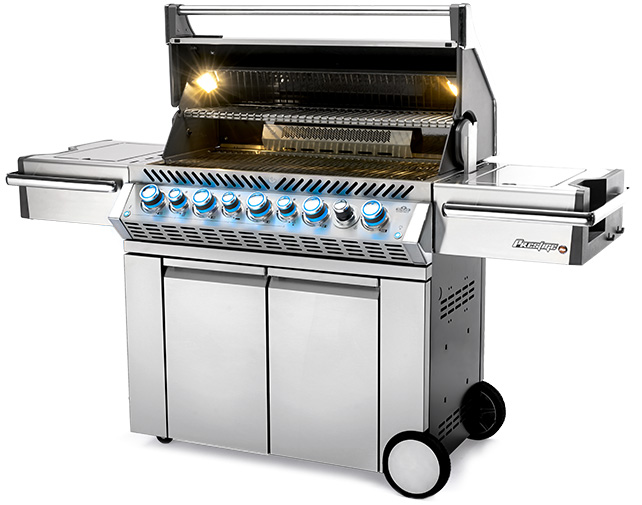 Prestige 665
If you're always the one grilling for everyone, it's time you treated yourself with the Prestige 665. With 8 burners, JETFIRE™ igniters, stainless steel WAVE™ cooking grids, a rotisserie kit and 1140 square inches of cooking space, grilling for a crowd is easier than ever before.
The 665 is built for convenience and features a built-in power bar, halogen lights, well-lit storage shelves and tool hooks, a slide-out propane tray, bottle opener, cap bucket, integrated ice bucket, side shelving, a cutting board, disposable drip trays, a warming rack and more!
Looking to smoke some ribs? Just add some wood chips to your smoker tube and you're good to go! This stainless steel, chrome-accented beauty also features a double-walled lid, which minimizes heat loss and gives you more temperature control.
If you have any questions about our gas grills, please give us a call at 301-843-1771 or stop by our showroom today!
A grill option you may not have considered is a pellet grill. Want to know more, click here.