Hearth and Stove Store » Fireplaces » Electric Stoves & Fireplaces
Electric Stoves & Fireplaces
Electric stoves & fireplaces allow homeowners to enjoy the warmth and charm of a fire without worrying about ever-changing fuel prices or hauling and stacking wood. At Tri-County Hearth & Patio, we carry a large selection of beautiful, high-quality electric stoves and fireplaces, designed to enhance just about any space. If you're looking for a new electric stove, insert, or fireplace, you've come to the right place. We even have mantel series and widescreen models.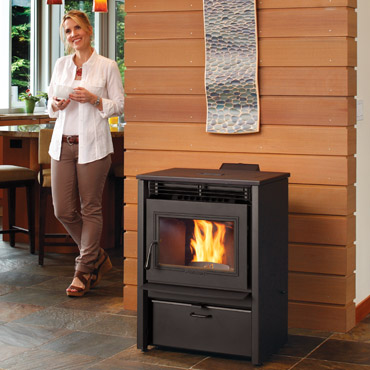 Why Choose An Electric Stove?
Placement Freedom & Convenience: Electric stoves give homeowners the freedom to move additional heat or ambiance into any room, as needed. There's no need to haul wood or build a fire — simply plug in the stove and relax.
Temperature Control: With the option to control heat output and even enjoy the look of the fire without the heat, electric stoves offer year-round enjoyment for any home space.
Compact: Electric stoves are typically compact, and won't take up much space in your home. This makes them perfect for adding additional heat, regardless of how little or how much space you have.
Environmentally Responsible: Unlike other stoves, electric stoves do not produce any environmentally harmful emissions. If you're concerned with efficiency and emissions, an electric stove is guaranteed to please.
Realistic Flames: With all of the improvements made to the logs and flames, electric stoves allow you to enjoy the beauty of a natural-looking fire, without the work.
Why Choose An Electric Fireplace?
Quick and Easy Installation: Unlike masonry fireplaces, electric fireplaces can be installed and ready to use in no time. And with electric fireplaces, clearance from combustibles isn't a concern, so you can add a fireplace to just about any space in your home.
Easy to Use: Electric fireplaces are designed to be easy to use and easy to enjoy. Once the fireplace is installed, you can enjoy the look and feel of a fire without any effort. You also have complete control over temperature and flame, so you get exactly what you want out of your fireplace.
Great Features: Many electric fireplaces come with entertaining features like accent lights and built-in sound systems with iPod and iPhone connections. These options paired with the many customizable finishes and styles are guaranteed to please.
Environmentally Friendly: Modern electric fireplaces boast incredibly realistic looking flames without the emissions.
A gas fireplace is a low-maintenance choice for your fireplace plans.