Hearth and Stove Store » Grills » Charcoal Grills
Looking For The Best Charcoal Grills? Look No Further
For a lot of grill masters, it just doesn't get any better than charcoal. The experience, the flavor, and the results are hard to beat, and with charcoal grills from Primo Grills and Big Green Egg, there's no reason not to love charcoal.
We Proudly Offer Primo Ceramic Grills – American-Made, Amazing Flavor
If you're the type of griller who lives by the motto "Go big or go home," it's time to take a look at our Primo Grills. These ceramic beauties are made to provide you with large cooking areas so you can bake, grill, roast, or smoke in bulk, without sacrificing flavor. Whether you're shopping for a stand-alone cooker or looking to add to your outdoor kitchen, any of the Primo grills can fit the bill. Here are some of the amazing options you'll find in our Showroom:
Jack Daniel's Edition Oval XL 400
Are you a grilling machine and a whiskey fan? Show your love for both with the Jack Daniel's Edition Oval XL 400. This cooker provides enough space to grill roughly 15-25 steaks, so get out the whiskey and start grilling!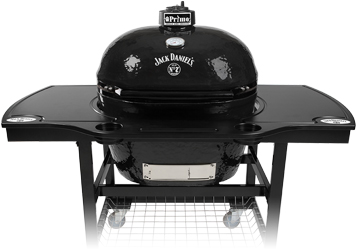 Oval XL 400
If you're looking for a large cooking area and top-notch grilling efficiency, look no further than the Primo Oval XL 400. This popular cooker can tackle up to 25 steaks at a time so you can spend more time soaking up the sun and enjoying the juicy, flavorful results of your labor.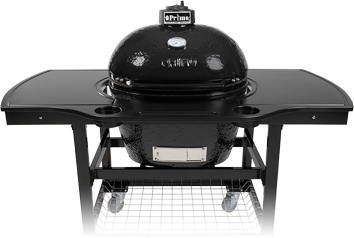 Oval LG 300
The Oval LG 300 has slightly less cooking space than the Oval XL 400, but is capable of grilling around 10-20 steaks at a time and features an optional extended rack system for added space. Like the 400, with the LG 300, you can truly bake, grill, roast, or smoke just about anything your heart desires.
Oval JR 200
If you're looking for a cooker that's a little bit smaller but still packs a punch, check out the Primo Oval JR 200. With the Oval JR 200, you can still grill up to 15 steaks at once or roast two 14 lb. turkeys without trouble.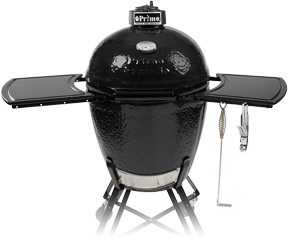 Kamado All-in-One
If you've been searching for an all-in-one grill to make grilling easier and more convenient than ever, check out the Kamado All-In-One. This beautiful grill provides 280 sq. in. of cooking space and features an ash tool, grate lifter, ergonomic handle, cradle stand, and side tables. Grilling for the whole family? With the Kamado All-In-One, you can have 10-12 steaks grilled to perfection in no time.
The Big Green Egg – Grill, Bake & Smoke Like A Pro!
If you've been trying to decide between having the perfect grill, the perfect oven or the perfect smoker, why not have all three? With the Big Green Egg, you can satisfy all your cravings with one product. Made of ceramic for precision temperature control, the Big Green Egg is designed to appease the griller, the baker, and the barbeque master in you.
Use your Big Green Egg for the ultimate in flavor, whether you're:
Grilling steak, fish, pork chops or seasonal vegetables

Baking a casserole, pizza or pie

Slow smoking ribs or lamb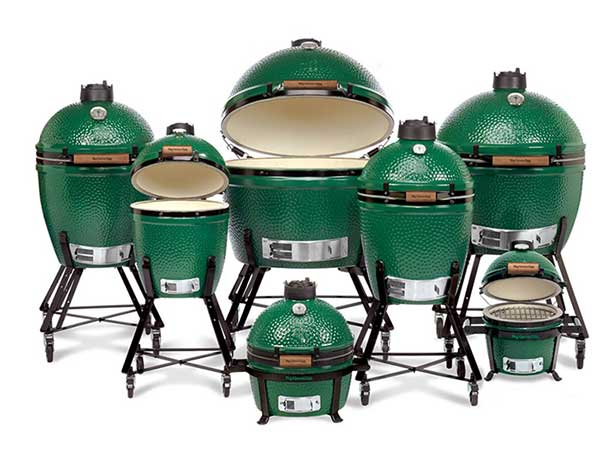 Whatever your culinary delight, you'll find that the Big Green Egg is the only cooking product you need. Available in sizes XXLarge, XLarge, Large, Medium, Small, and MiniMax, and Mini, you're bound to find the perfect Big Green Egg for your needs and lifestyle.
EGGcessories – Everything You Need For Your EGG, And More!
We also offer a full range of EGGcessories, including:
Custom Islands & EGG Tables

Nests, Handlers & Mates

Charcoal, Starters & Smoking Woods

Plate Setters & Baking Stones

Thermometers

Cookware

Pizza & Calzone Servers, Cutters, Rolling Mats, Stones, Peels and Pans

Grill Lights, Cooking Grids, Gloves & Mitts, Grid Cleaners, Cutting Boards, Skewers and Grilling Tools

EGG Covers

Cookbooks & Seasonings

Tablecloth Weights

Citronella Mini EGG Candles

Salt & Pepper Shakers & Corn Holders

Replacement Components
If you have any questions about our Primo or Big Green Egg grills or EGGcessories or would like to know more about any of our products, please stop by our Showroom or give us a call at 301-843-1771. We look forward to helping you find the perfect grilling addition for your space!
There's bound to be the perfect grill for you – maybe it's one of our popular gas grills.