Interested in a different heating system for your home? Fireplaces are known for their great ambiance, as well as their reputation for increasing home value, and when used correctly and regularly maintained, they can provide a lot of extra heat for your home. Unfortunately, older models sometimes just don't do enough when it comes to efficiency, which is why many of our customers are either looking to update their appliances or change their fuel type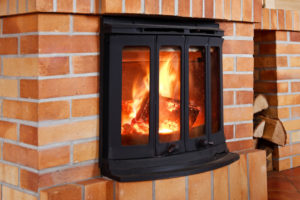 altogether.
That being said, sometimes investing in an entirely new unit just isn't an option due to time restraints or financial limitations. In these cases, it may be in your best interest to purchase an insert. Learn more about the benefits of these below, then turn to our team with any further questions. We're happy to offer you the guidance you're seeking!
Benefits Of Fireplace Inserts
Now, one of the biggest reasons a homeowner might switch to a fireplace insert is due to their heightened levels of efficiency. If you are worried that you're losing heat or that your outdated system isn't providing you with the comfort your family deserves, then an insert is definitely a good investment for your home.
As you can imagine, the higher your efficiency levels, the less amount of energy you'll use up, which will result in more heat, lower bills, and lots of peace of mind. This goes for all fuel types – an insert is always the better option! No matter what you prefer, be it gas, electric, wood, or pellet, this is one upgrade you'll be happy you made.
Inserts are also known for being environmentally-friendly, so you can stress less about your carbon footprint. Newer models send far fewer emissions into the air, and we sell EPA-approved appliances, so you can rest easy knowing you're only getting the best of the best when it comes to environmental impact.
Worried about sacrificing style for efficiency? Well, put those concerns to rest, because inserts come in a wide range of size, style, and design options. They won't ruin that classic fireplace aesthetic and if you're hoping to keep that timeless feel, there are plenty of options out there. On the flip side, if you want something smooth, sleek, and modern, we've got plenty to choose from in that category, too! Curious about our stock? Give us a call today. We'd be happy to point you in the right direction.
And, as we mentioned above, one of the most appealing reasons to go with an insert is their comparatively lower installation costs. Rebuilding and restoration work can add up really quickly, and it usually takes quite a bit of time to complete, as well. Installing an insert puts a lot less strain on both your calendar and your bank account, so you can get back to enjoying cozy fires in no time.
Ready to get this process started? Reach out to Tri-County Hearth & Patio today or swing on by our showroom to get a look at your options for yourself! We're eager to work with you every step of the way.
What Fuel Type Is Right For You?
Now, in regards to the inserts we sell, there are four different fuel types available. The first we'll discuss is wood-burning. If you love a more old-fashioned feel from your fireplace and think that nothing can beat the sounds, smells, and ambiance of a traditional wood-burning unit, then this is definitely the right path for you. Our inserts have everything that a classic set-up has, only with the addition of those higher levels of efficiency you're hoping for – it's the best of both worlds!
The next up is gas. Those with busier lifestyles tend to prefer gas-fueled inserts, as they require a lot less maintenance than their wood-burning counterparts. There's no hauling wood, no messy ash piles, and no building fires that must be maintained all evening long. Simply flip a switch or push a button, and you are good to go! You simply can't beat that level of convenience and newer models come with realistic-looking log sets, so it truly feels like the real thing.
Want the convenience of gas with the feel of a real fire? Then, pellets may be a good option for you. With these units, real wood pellets are dispersed periodically from a hopper, so you get real flames, only without having to do quite as much work. Just load up the hopper, and you'll be set for hours on end! There's a little bit of mess involved, but not near as much as in a wood-burning unit, so it's really a good middle ground alternative if you simply cannot decide between the two.
Finally, there are electric inserts. These are clean, safe, affordable, and super easy to operate. Just plug it in, switch it on, and you've got heat! These are a great route for those with limited space or looking for an easy solution to their fireplace struggles, and we offer many style options, so finding the right fit for your decor won't be a problem.
Still not sure where to start? No problem. This is a big decision, and it's important to consider every scenario! We encourage you to reach out with any questions, concerns, or inquiries, as our qualified crew is more than capable of giving you the answers you seek. Give us a call today!
Need Accessories, Too?
Whatever you decide on, don't forget to customize your new addition! Adding a few accessories here and there helps to really make it your own, and we guarantee it will help create the cozy feel you're hoping to achieve. Talk to us today about toolsets, mantels, glass doors, and more!