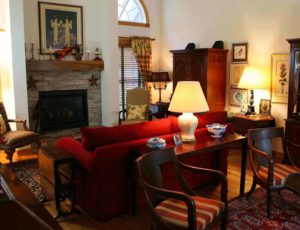 For ambiance or for practicality, are you looking to upgrade your home with a hearth appliance this winter? At Tri-County Hearth & Patio, we carry an extensive selection of fireplaces, inserts and heating stoves, all of which are available in wood-burning, pellet, gas and electric models. But if you're starting your search for a hearth appliance, you might be wondering just what type of appliance is right for your home. Here's what you need to know about the different types of hearth appliances.
Fireplaces
Fireplaces are one of homeowners' most loved amenities. At Tri-County Hearth & Patio Center, we carry factory-built fireplaces in a variety of styles and fuel types to fit your home's needs. A wood-burning fireplace offers traditional charm, while gas or electric fireplaces can provide efficient heat with convenient operation. Our factory-built fireplaces can help you upgrade and replace an outdated factory-built fireplace, or if you're looking to add a new fireplace to your home, a factory-built fireplace can be fitted into a newly constructed framework that meets with the safety constraints of your chosen appliance.
Fireplace Inserts
Many homeowners struggle to determine the difference between a factory-built fireplace and a fireplace insert. The difference is a simple one: A factory-built fireplace is installed in a simple framework designed specifically to fit a factory-built fireplace. A fireplace insert, on the other hand, is installed into an existing masonry fireplace and chimney. A fireplace insert is the perfect way to convert an inefficient open-hearth fireplace with a hearth appliance that will generate enough heat to lower your home energy bills. Just like prefabricated fireplaces, fireplace inserts are available in efficient wood-burning models, pellet-burning and gas-burning models. Fireplace inserts can fit perfectly into your existing firebox for a seamless look, or if your firebox is large enough, a free-standing stove insert can be set inside your hearth.
Heating stoves
Heating stoves are a fantastic way to add supplemental heat to your home. A heating stove can be installed in a portion of your home that you spend the majority of your time in so you can turn the thermostat down the rest of your home, or you can install one in a room or area that seems to suffer a permanent chill. With a heating stove, you get efficient heat that radiates out from 360 degrees. Heating stoves come in any fuel type. Heating stoves can be hooked up to an existing chimney or installed with their own chimney, or ventless gas or electric heat stoves can be installed nearly anywhere in a home, without the need for a chimney.
If you're shopping for a new hearth appliance to add warmth and comfort to your home this winter, you're sure to find just what you're looking for at Tri-County Hearth & Patio. While you shop, our fireplace experts can answer your questions and help you find the right fireplace, insert or heating stove for your home. Stop by our showroom today!