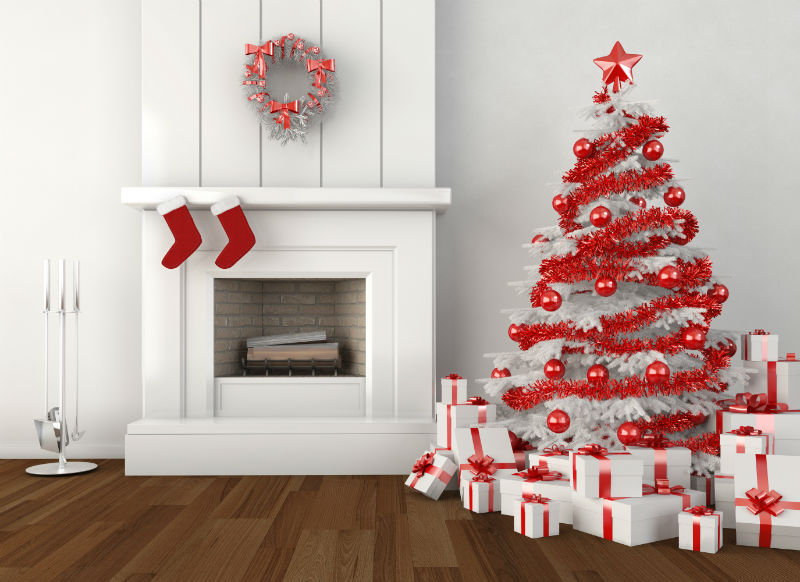 The holidays are upon us. That means family gathering around the fireplace. As you gather around your fireplace this holiday season, we have some helpful tips on using your fireplace safely and effectively.
Keep decorations away from the fireplace.
A well-decorated hearth is a traditional part of the holiday season. But don't just haphazardly hang those stockings before the chimney. As you decorate your mantel, make sure you keep the hearth well clear of any flammable objects. Stocking shouldn't dangle in front of the fireplace, and beware of any items dangling down from the mantle.
Prep your fireplace.
If cozy fires will be part of your holiday season, make sure your fireplace is prepped and ready to go. You should have your chimney and fireplace swept and inspected before you light your holiday fires. You also should have your fireplace fuel ready to go, whether that's plenty of properly seasoned firewood or wood pellets. If you have a gas fireplace, your chimney sweep should clean it and thoroughly inspect its function.
Set the thermostat.
If your gas fireplace is attached to a thermostat, put that thermostat to good use during holiday gatherings! With a fire glowing in the fireplace, it can be easy to overheat your living room and your guests. The thermostat can keep the fireplace from overheating your home. If your fireplace isn't affixed to a thermostat, you may want to turn your home thermostat down by a few degrees to prevent the temperature in your home from rising too high.
Only burn the fuel that was intended for your fireplace.
With holiday wrapping paper and plenty of cardboard boxes, not to mention the tree, it can be tempting to throw things other than firewood or pellets into your fireplace. You should never burn anything other than the intended fuel in your fireplace. Anything else can cause dangerous flare ups that can cause a chimney fire, or noxious fumes that could sicken you and your family.
Use a fireplace screen.
People will inevitably gather in front of your fireplace. Keep them safe from the falling logs or jumping embers by using a fireplace screen. A fireplace screen keeps all burning items in the firebox, keeping people, pets, flooring, furniture and holiday decorations safe from burns. If you have small children or pets that will be visiting your home this holiday season, you might want to invest in a hearth gate to keep them safely away from the fireplace.
Be prepared.
Make sure your home is well equipped to deal with a fireplace problem, should it arrive. You should have a functioning fireplace at hand, and each floor of your home should be outfitted with working smoke and carbon monoxide detectors.
Enjoy your holiday season!
At Tri-County Hearth & Patio Center, we are glad to be part of your holiday season by providing you with the best fireplace services and accessories. As you gather around your fire with family and friends, we wish you happy holidays!