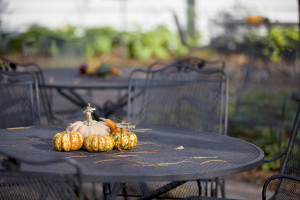 Shake up your annual Thanksgiving gathering by moving the feast outside. Outdoor Thanksgiving traditions harken back to the original Thanksgiving, when the fruits of the fall's harvest were prepared over fire and shared at outdoor tables. An outdoor Thanksgiving provides you and your guests an opportunity to enjoy the crisp fall air while watching your meal cook over an open flame. The entire Thanksgiving meal, from the turkey to dessert, can be prepared on your grill or in your outdoor kitchen.
Turkey
The Thanksgiving chef has many options for preparing his turkey outside. Grilling a turkey is easy and impressive. Choose a bird that is flat enough to fit under your grill's lid, with at least one inch between the top of the turkey and the lid. Prepare indirect heat to 350 degrees and place a drip pan under where the turkey will sit. Oil the turkey, the grill and the lid, and cook the turkey until the internal temperature of the thigh reaches 165 degrees. A turkey also can be cooked on your grill's rotisserie. For a charcoal grill, a drip pan should be set under the turkey, and the coals should be arranged around the pan. Follow the manufacturer's instructions for your gas, electric or pellet grill. Add an inch of water to the pan to keep the turkey moist. Place the turkey evenly on the spit to make sure that it cooks evenly and doesn't wear on the rotisserie motor. If you have the right tools, your turkey can be deep fried or smoked.
Side dishes
Hearty fall vegetables are perfect for grilling, and perfectly roasted vegetables make for an elegant Thanksgiving presentation. Some vegetables you could experiment with include butternut squash, acorn squash, Brussels sprouts, carrots, potatoes, cabbage, ears of corn, green beans, and even pumpkins. Recipes abound online for grilled fall vegetables, but if you like to keep things simple, an easy no-recipe side dish is to cut your chosen fall vegetables into equal size pieces — for even cooking times — and toss them with olive oil, salt and pepper. Larger whole vegetables such as squash and potatoes can be placed directly on the grill, or you can place smaller pieces or smaller vegetables in a grill basket or on foil. Grill until the vegetables are crisp tender and nicely charred. For a fancier application, roast vegetables can be tossed with maple syrup and pecans for the last few minutes of grill time.
Dessert
Anything that can be baked can be prepared on the grill, and many grilled desserts are surprisingly easy to prepare. Pies and cobblers do especially well on the grill, and both are easy to throw together, especially if you use a store-bought crust for the pie. Other options include cupcakes, baked apples, dessert pizza and grilled fruit, which can be used to top ice cream or cake.
Throwing an outdoor Thanksgiving feast can be a fun way to introduce new traditions, try new recipes and enjoy the autumn weather. And with a front-row seat to your grilled Thanksgiving meal, your guests are sure to be wowed.