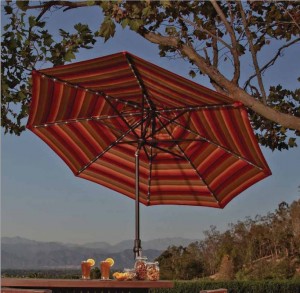 It's 85 degrees outside—although it feels 100—and you're outside on your patio reclining in a lawn chair. You try to relax and enjoy the long-awaited summer weather, but the sweat just won't stop dripping down your face. Nonetheless, that summer sunshine holds a special place in your heart, but the scorching heat of summer makes it anything but easy to enjoy an outdoor lounge. Fortunately, you beat the heat this summer with a patio umbrella.
A patio umbrella is a great way to shade your outdoor living space to make your summer experience much more comfortable. Much less expensive than setting up a shade system or building a roof, a patio umbrella is an easy and smart solution to escaping the scorching heat of summer. By providing you with shade, a patio umbrella allows you to feel the air's actual temperature, whereas standing in the direct sunlight makes it feel 10 to 15 degrees warmer. A patio umbrella will also last longer than an awning because it can be folded down when not in use as well as stored away during winter so it will not catch the weight of the snow.
Not only does a patio umbrella help you keep cool, but it also protects you and your outdoor furniture from harmful UV rays. While the short-term effect of UV ray exposure is a fairly harmless sunburn, the effects of chronic exposure are much more serious and include premature aging, reduced immune system, and skin cancer. Also, just as you need protection from UV rays, so does your outdoor furniture. Over time, UV rays can cause your furniture to fade, damaging a precious investment to your outdoor living space. A patio umbrella is like sunscreen for both you and your outdoor furniture.
Tri-County Hearth & Patio in Southern Maryland, with over 30 years of service, takes pride in providing everything you need to create an enjoyable outdoor living space. With the help of these professionals, you can do more than merely add on to your outdoor furniture; with an almost limitless selection of patio umbrella colors, sizes, and styles, you can choose just the right match for your outdoor décor. If you're not sure which color to choose, cool hues like aqua and cobalt may be the way to go. These water-like colors make it easy to picture yourself lounging on the beach with the cool ocean breeze. Indeed, cooler hues may make you feel more cooled off than warmer hues. To find the perfect patio umbrella for you, stop by Tri-County Hearth & Patio today.