Are you in the market for a new grill this summer? If so, pay a visit to TriCounty Hearth & Patio Center — We're Southern Maryland's Big Green Egg superstore!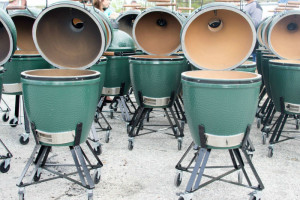 What is the Big Green Egg?
Inspired by ancient ceramic cooking vessels from Asia, Big Green Egg launched more than 40 years ago, importing Japanese and Chinese clay ovens to the United States. Shortly after, they began manufacturing their own large, green clay grills. Since then, the Big Green Egg has become a cooking phenomenon, popular among chefs and foodies.
The Big Green Egg is part grill, part smoker and part oven. It seals tightly during cooking, retaining food's moisture and releasing smoke, as needed, to maintain the proper cooking temperature. The Big Green Egg can be used to cook everything from a Porterhouse Steak to lobster tails to vegetables. It can smoke large cuts of meat, or even be used to bake a casserole or a cake.
What sets the Big Green Egg apart?
The Big Green Egg is manufactured from a ceramic composite originally developed by NASA. As such, the Big Green Egg has superior insulating qualities. The internal temperature of the Big Green Egg is unaffected by outdoor temperatures, meaning you can cook outdoors weather it's 90 degrees or 20 degrees. As such, you can reap the benefits of cooking on your Big Green Egg year round.
The Big Green Egg also is an incredibly accurate cooking vessel. It allows you to regulate your cooking temperature within 1 degree, whether you're smoking something at a low temperature or searing a steak. The insulating quality and unique shape imparts and intense and unique flavor on whatever you're cooking.
Why buy your Big Green Egg from TriCounty?
You won't find a wider selection of Big Green Eggs in all of southern Maryland than you will find at TriCounty Hearth & Patio Center. We carry seven different sizes of Big Green Eggs, ranging from the Mini to the XXL. We also carry a whole lineup of accessories for your Big Green Egg. We offer custom islands and egg tables; nests, handlers and mates; baking stones and cookware; a variety of pans, servers and cutters; Big Green Egg covers; and citronella mini Egg candles. That's in addition to our lineup of outdoor cooking products, including charcoal, charcoal starters, smoking woods, cookbooks, grill lights, thermometers, seasonings, cutting boards, skewers, oven mitts and grill tools. We also offer replacement components!
If you're shopping for a new grill this spring, visit TriCounty Hearth & Patio Center's expansive showroom. You'll be able to see the Big Green Egg for yourself and speak to one of our knowledgeable salespeople about why the Big Green Egg would be the perfect next grill for you!