If you're considering replacing your outdated woodstove, electric stove, or a stove that burns a fossil fuel other than natural gas, you could be eligible to save money with the Maryland Energy Administration's Clean Burning Wood Stove Grant Program. The program aims to encourage residents to invest in clean energy for their home-heating needs. Residents who convert an inefficient electric, wood-burning, or non-natural gas stove to an EPA-certified wood-burning stove could be eligible for a $500 incentive, while residents who upgrade to a pellet stove could be eligible for a $700 grant.
Why upgrade your stove?
Old wood-burning stoves release smoke and particles into the air, and much of that pollution stays in your neighborhood. Wood smoke from older, inefficient stoves, or open-hearth fireplaces, is considered so dangerous that it's brought warnings from groups including the American Cancer Society, the American Lung Association and the EPA. If you're living in an older home with an oil or coal-burning stove, it should not come as a surprise that those types of fuel are inefficient and let off a lot of air-polluting smoke when they burn. And while electric fireplaces burn extremely efficiently in your home, providing virtually no pollution, the power plants that fuel them usually run on coal, which makes them a poor choice for those looking to reduce their environmental impact.
What are your stove options?
Maryland is offering incentives for residents who upgrade wood stoves or pellet stoves. Woodstoves must be EPA-certified, emitting 3 grams or less of particulate matter per hour. Pellet stoves must meet Washington state emission standards and emit 2 grams or less of particulate matter per hour. Wood stoves provide the traditional look of burning logs that many people enjoy, and fueling a traditional log-burning wood stove is particularly convenient and low-cost for people who are willing and able to cut their own firewood.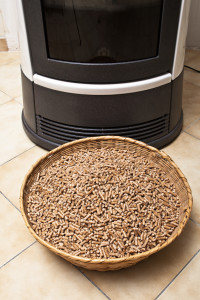 Pellet stoves are considered one of the most environmentally friendly home heating option, as they can burn pellets of compressed sawdust or biofuels like corn or cherry pits. The pellets are also typically made from wood byproducts that otherwise would have ended up in landfills, adding to their environmentally-friendly appeal. Pellets can be purchased in 40 pound bags at many hardware stores and big-box retailers. Both log-burning and pellet-burning stoves are lauded for being carbon neutral, as the carbon let off during burning is carbon that would have been let off as wood decomposed naturally over time. And, of course, wood is a renewable resource.
Upgrade now and save money!
Upgrading your outdated stove can save you money on your heating costs and lower your environmental impact. You can save money now on your upgrade with a grant from the Maryland Energy Administration. The stove experts at Tri County Hearth and Patio Center can help you select a grant-eligible stove that best meets your home-heating needs.