Fall is the air! Temperatures are beginning to drop, the leaves have started to change colors. Before you know it, it's time to gather the family and light a fire around the fireplace! However, was your fireplace experience less-than-ideal last winter? You can get more from your fireplace this year when you revamp your hearth with fireplace accessories from Tri-County Hearth & Patio.
Add a mantel or fireplace doors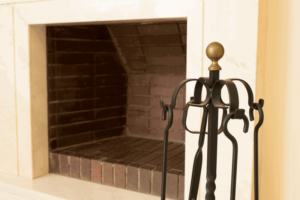 Is something missing from your hearth? You should invest in a mantel or fireplace doors right now. It really can spice up the entire appearance of your hearth. If your fireplace does not have a mantel, it is outdated, or improperly sized, a new mantel can pull the appearance and function of your fireplace  altogether. Adding or changing your mantel can create an entirely new look and feel for your hearth and home.
Most open-hearth fireplaces are installed without fireplace doors, or worse, they're installed with flimsy, factory-grade doors that can't be closed when the fireplace is in use. Installing new fireplace doors can update the style of your fireplace and stop drafts when a fire is not burning. Quality fireplace doors provide a lot of utility. They can be closed while a fire is burning to keep sparks and embers in the fireplace and contain shifting logs. They form a better seal to keep cold air from entering your home through the chimney when the fireplace isn't in use. Some fireplace doors are even designed to increase your fireplace's efficiency; they absorb the heat from your fire and radiate it out into the room.
Add protection with a hearth board & a mesh screen
A hearth board, also called a hearth pad or stove board, can protect your home's flooring from errant sparks that fly out of your fireplace. A hearth board is placed on the floor in front of your fireplace so it intercept any sparks or embers that fly out of your fireplace. Hearth boards are made to be decorative so they add to the look of your fireplace, in addition to adding to the practicality of your hearth.
Another way to protect your home and your family from the sparks generated from your fireplace is a mesh screen. A mesh screen is placed in front of your fireplace to contain the sparks from your fireplace, so they don't burn or ignite nearby furnishings.
Tend your fire with the right tools
Fireplace tools are an absolute necessary for anyone with a fireplace. A quality set of fireplace tools provide you what you need to tend and clean up after your fires. At a minimum, your fireplace tool set should include a poker and tongs for tending your fires, and a brush and shovel for cleaning up ashes after the fire. Be ready for cooler temperatures this fall! Revamp the utility and look of your fireplace with accessories from Tri-County — Come shop our showroom today!