Gearing up for sweater weather? Enjoy the crisp, cool air of fall, even more, this year by adding a fire pit to your backyard space! They are easy to operate, versatile, and, when it comes to creating the perfect aesthetic, they never disappoint. Our team can get yours installed right away, so you can have the best autumn yet.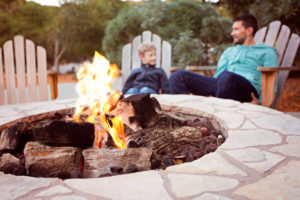 Advantages Of Owning A Firepit
Firepits offer many advantages, and one of these is their versatility. They can be used for cooking, adding warmth to your space, offering up some extra light, or simply enhancing the atmosphere of your outdoor gatherings. These wide ranges of use ensure you have everything you need to make your evenings as enjoyable and as comfortable as possible. This is definitely one investment you won't regret!
Firepits also come in a wide range of sizes, styles, and designs options, so finding the perfect fit for your home should not be a problem at all. You can choose from a variety of fuel types, as well, so whether you like the more traditional wood-burning options or a gas-fueled unit that requires a bit less maintenance, we will get you set just right.
Worried about safety? These units are known for being safer for use. They allow for a more controlled fire, so you won't need to worry about flames spreading throughout your property, and they are surrounded by walls, so sparks won't be flying left and right. There are typically options for protective coverings, as well, if you have small children and/or pets running around.
Finally, enhancing your home's outdoor space by adding a firepit can add significant value to your property. When the time comes to sell, your property will be a lot more desirable to potential buyers, and most are willing to pay more for a place with an idyllic backyard space already set up. This means you get years of enjoyment along with added advantages at selling time – you can't go wrong!
Our Team Is Here To Help
Finding the right addition to your home doesn't have to be a challenge. If you love the idea of adding a firepit to your space, but simply do not know where to start, then call on our team of experts today. We'd be happy to help you through every step of this process! We are certified with the CSIA and associated with reputable organizations like the HPBA, NBBQA, and the Southern Maryland Women's League. When it comes to quality care and a high level of customer service, we never fail to satisfy!
Fall is just around the corner, so schedule your maintenance today before our books fill up. We can have you set up right in no time! Call today, so we can get an appointment on the calendar.