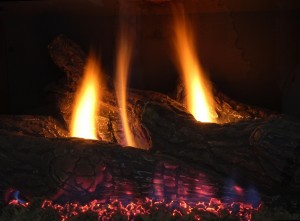 Fireplaces are growing in popularity, and many homeowners can't wait to purchase and install their very own wood-burning appliance. It's no wonder more than half of American homes have at least one fireplace and that number is growing every year. The idea of a fireplace is wonderful: cozy fire, warm hearth and a comfortable glow ruminating your living area. However, if you're planning on installing a fireplace in your home it is necessary to understand how to properly use it.
Fireplaces are large heating appliances, and should be treated with respect and care. Understanding how to properly light a fire will ensure it burns as hot as possible, which is the safest way to burn a fire. Ultimately you want a fire to burn as clean and as hot as possible. Here are some tips for how to properly start a fire in your fireplace.
Start With A Safe Fireplace
Before you light your fire, make sure the fireplace is clear of debris and your chimney is clear of blockage. Using your fireplace starts with a professional chimney sweep and inspection to make sure it is safe to operate your chimney. Once you get the go ahead from your chimney sweeping professional, clean your fireplace thoroughly to make sure there's no waste or debris inside.
Prime The Fireplace
A fireplace has many components, and it is important to understand how to use all these components. Open the damper ALL THE WAY before you light your fire. This will open the chimney up to allow as much oxygen as possible to reach your fire, building a big blaze and helping you build a fire that's long lasting. If your chimney is exposed on the outside of your home, you may have to warm the flue to counteract what's known as a cold air sink. When you open the damper, cold air will push down towards your chimney and make it difficult to light a fire. Warm the flue by lighting a roll of newspaper and holding it by the damper for a few moments.
Build The Fire Bed
There are many thoughts on how to build the proper fire, and we won't attempt to counter all of them. Many people recommend you build a "log cabin" with the wood and place newspaper inside. Others will recommend you build a triangle "teepee" around a bundle of newspaper. No matter which technique you use, it's important to have the following components:
Kindling, or small twigs and other pieces of wood
Newspaper or other scraps of paper balled up
Long matches or a long barbecue lighter to safely light the fire
Larger logs to add once the fire is burning well
When you light your fire, making sure you tend to it constantly in the beginning will help it burn long and hot. Remember, leave a fire unattended and keep children and pets away from the fire at all times. Contact Tri County Hearth & Patio Center in Waldorf, Maryland for all your fireplace and fireplace accessories and enjoy a beautiful wood burning fire all winter season long.