Are you ready for the Memorial Day kick off to the summer grilling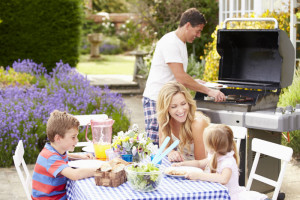 season? Even if your grill and favorite grilling recipes are ready to go, a successful grilling season still requires the right grilling
accessories
. We've compiled a list of the best accessories to help you grill juicy burgers, tender steaks, perfectly charred vegetables and any of the other smoky creations you enjoy concocting in your outdoor cooking space.
Best Grill Accessories:
• Long-handled utensils. To tend the food on your grill, you need the right utensils. We recommend long-handled stainless steel utensils: Tongs for turning hardier meats like steaks, ribs and chicken, and a spatula for more delicate items like fish and burgers. We recommend that you avoid grilling forks, which pierce meats and cause them to lose their tasty juices. Don't forget a basting brush to impart moisture and flavor during the cooking process!
• Grill basket. A stainless-steel grill baskets works well for small foods, like delicate vegetables, and for foods that are too delicate to flip easily or that are likely to stick to grill grates.
• Thermometer. A meat thermometer guarantees that your foods are cooked to the proper temperature, so that you never over or under cook your meats. If your grill doesn't have one built in, you also may want to consider purchasing a grill thermometer, so you can make sure you have your grill heated to the proper temperature for your foods.
 
• Grill mitts. Protect your hands with grill mitts. Don't rely on traditional oven mitts. Specialized grilling gloves are made to withstand higher temperatures, and many gloves are elbow length to protect your arm from the grill's heat and flames.
• Grill starter. Get your grill lit quickly every time with a grill starter! Charcoal chimneys are a traditional choice, or we offer the revolutionary Looftlighter. The Looftlighter uses high heat and electric fans to ignite charcoal or wood chips in 60 seconds or less.
 
• Spices, rubs, sauces and seasonings. The fun of the grill comes in experimenting with bold, robust flavors. We carry a variety of locally made flavorings guaranteed to make your next barbecue a flavorful success.
• Wire brushes. It is important to keep your grill clean between cooking sessions. You don't want last night's salmon sticking to today's chicken! A quality, stiff wire brush can help you keep your grill grates clean. After preheating your grill for 15 to 25 minutes, give your grill a vigorous scrubbing with a wire brush before you begin cooking your food. Brass brushes generally are preferred over steel, as they are less likely to scratch or damage grill grates.
If you are eager to get the grilling season started but need quality grilling accessories, visit the Tri-County Hearth & Patio showroom. We carry everything you need — from grills to spices to utensils — to make this your best grilling season yet!