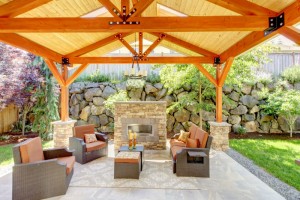 This is the most wonderful time of year. Now that the warm weather is hear to stay, we at Tri County Hearth & Patio Center in Maryland are so excited to help folks decorate their outdoor entertaining areas for spring and summer. When the warm weather hits and the days get longer, there is nothing better than spending time with friends and family in your backyard. If you are looking to freshen up your patio, here are some simple patio decorating ideas for every budget.
Outdoor Cooking
One of our favorite things about outdoor entertaining is the ability to cook outside. Whether you're a novice griller with a simple charcoal grill or a barbeque expert with A Big Green Egg on your patio, outdoor cooking is an easy and delicious way to feed a crowd. Personally, we couldn't imagine any patio being complete without an outdoor grill. If you don't have a grill yet, come into Tri County Hearth & Patio and let us recommend the perfect outdoor cooker for your space, your experience and your budget.
Plenty Of Seating
Another important decorating tip is to make sure there are plenty of seats for all your guests. Enjoying the outdoors is all about leisure and taking your time with family and friends. Invest in some comfortable outdoor seating with plenty of sun coverage. That way, friends and family will stay cool and comfortable as you all spend time together this spring and summer.
Create Glow With Outdoor Hearth
A great way to add an inviting touch to your patio is with outdoor lighting. Strung lights create a beautiful atmosphere that lets your guests feel comfortable and relaxed as they linger outside. The dim, natural lighting of lanterns and lights creates an inviting glow you will all enjoy. Small tiki torches also add a beautiful glow while repelling mosquitoes and other pests. Of course, no patio is complete without an outdoor fire pit or hearth. Whatever your budget, it is easy to invest in, and install a stunning patio hearth with the help of our professional technicians at Tri County Heart & Patio.
Patio Decorating Safety
Remember to be cautious this spring and summer. Enjoying time with friends and family is the only way to enjoy the warm weather, but you want to make sure everyone is safe. Here are some basic safety tips to consider as you decorate your patio:
Only use electric decorations and extension cords designated for outdoor use.
Never overload electrical outlets or surge protectors.
Fasten all outdoor decorations securely to the house or ground in case of a strong storm.
Clean any water spills or standing water – especially around electrical equipment.
Turn off all electrical decorations when not in use.
Install hearths and grills in well-ventilated areas.
Consult a professional before installing any outdoor wood-burning appliances.
Come into Tri County Hearth & Patio to look at our great patio products and get inspired to decorate your own backyard. Create a space you and your family will love all spring and summer long with gorgeous outdoor grilling and entertaining products.