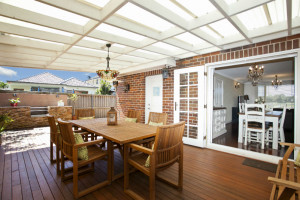 Your patio extends the footprint of your home, providing additional living and entertaining space. You've enjoyed the space all summer. Enjoy your patio further into the fall by exploring outdoor heating options your outdoor space.
Fire Pits
Outdoor fire pits have grown in popularity over recent years. They don't take up a lot of space on your patio, can be placed anywhere outside and provide a fun and comfortable space for your family and friends to gather. There are many options for fire pits. They can be wood or gas burning, and they can be portable or built-in structures. While most fire pits are intended for entertaining, some are equipped with grills for cooking. Fire pits offer a great option for heating your outdoor space because they offer 360 degrees of heat, allowing many people to gather around them. They also are a cost-effective option for heating your outdoor space.
Outdoor Fireplaces
In addition to adding heat to your home, outdoor fireplaces add a sense of elegance and create ambiance. As with fire pits, outdoor fireplaces can be wood or gas burning. They can be constructed out of a variety of materials — from stone to granite — to complement your home's design. An outdoor fireplace can be constructed adjacent to your home, or elsewhere in your backyard to create an entirely different entertainment space. They can be constructed up against an existing wall, or they can be freestanding.
Chimineas
Chimineas offer a cost-effective option for heating your patio. A traditional chiminea has round at the bottom with a tapered "chimney" top. Generally, they are built from clay and open on one side, though some modern models are constructed from cast iron and have mesh sides for a 360-degree view of the fire. Chimineas are a convenient because they are easily portable, though they should not be placed on a wooden deck.
Patio Heaters
Patio heaters are the best option when you want to heat a large area of outdoor space. The heaters are freestanding, gas fueled and constructed out of stainless steel, cast aluminum or painted steel. There are large heaters that can be placed around an outdoor space, as well as smaller tabletop units. As with chimineas, they offer the convenience of portability. They heat up to a 25-foot radius, so they are especially useful for large outdoor spaces and late-season outdoor parties.
An outdoor heater, whether it's a portable fire pit or an elegant outdoor fire place, ultimately will allow you to enjoy your outdoor room for more of the year, increasing the value of your patio space. With so many outdoor heating options, you can easily find one to fit your needs and your outdoor living space. The patio experts at Tri County Hearth & Patio Center can help you find the right outdoor heating appliance for your patio.