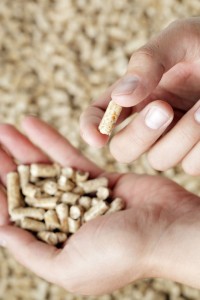 You have always been a passionate cook, so of course, at every gathering of family and friends, you break out the old propane grill. While your guests always seem satisfied with your food, you wish you could add a little something extra to the flavor to really have them talking. What you really want is the bold wood flavor of a wood fired grill coupled with the speed and control of a propane grill. Fortunately, there is an answer to this common cook dilemma—a pellet grill.
With the convenience of a propane grill and the wood flavor of a wood fired grill, a pellet grill gives you the best of both worlds. According to Steven Raichlen's Barbeque! Bible, "The Hearth, Patio and Barbecue Association (HPBA) reports that wood pellet grills are one of the hottest trends in the industry, offering consumers the primal flavor of wood smoke coupled with the turn-of-a-knob convenience of gas." A revolution in grilling, the pellet grill makes cooking easy while still enabling you to impress with savory flavors like oak, mesquite, and hickory.
At this point, you may be thinking that a pellet grill sounds too good to be true. With such great flavor, where does all this convenience and control come from?
Just like an oven, pellet grills have a digital controller that allows you to select your desired temperature.
While cooking on other kinds of grills may require hard labor to maintain a steady temperature, cooking on a pellet grill does not. Since the pellet grill is computer controlled, it is able to maintain its temperature without any supervision.
The pellet grill allows you to conveniently burn small hardwood pellets, since the digital thermostat control feeds pellets into the firepot to maintain the set temperature.
Even heat distribution allows you to cook your food to perfection without any burning.
Since pellet grills rely on standard household electrical current, simply plugging the grill into an outlet will get you started. Even more, a pellet grill only uses about as much power as a standard lightbulb.
If you prefer the irresistible wood flavor of wood fired grilling but still desire the control of a propane grill, Tri-County Hearth & Patio has you covered! At Tri-County Hearth & Patio, you will discover a variety of Traeger Pellet Grills to choose from. As the world's top selling pellet grill, a traeger grill will be sure to both impress your guests and provide you with the cooking experience you've been dreaming of.