With the first official day of winter just a few days away, many homeowners have already burned many fires in their wood stoves and fireplaces. Most responsible homeowners know that proper care of the fireplace and chimney keeps the family and house safe from any disasters. This proper care includes the expert recommendation of a chimney sweep and inspection at least once every year. These two measures cover just about every issue that may come up regarding the chimney and fireplace. However, one issue that people rarely discuss – and should – is the proper way to dispose of ash after burning wood.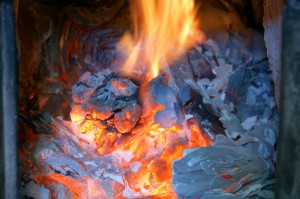 The ash created from burning wood stays hot much longer than most people think. Many assume that the ash can be moved the next day or even just a few hours after the final flame is put out. Thinking the ashes are truly cooled down results in stirred up hot ashes and storage in flammable containers, which results in many unintentional fires. Even after a few days of cooling, the ashes can still harbor live embers hot enough to reignite a fire with the right conditions. The minimum amount of time to let ashes cool down to a safe temperature is four days. Even after this period had passed, extra care should be taken when storing and disposing of the ashes for good.
Ideally, the ashes should be allowed to cool in the space they were burned for as long as possible. These units – fireplaces, stoves, or fire pits – are designed to safely contain the heat. When the ashes need to be removed, place them directly into a fire-safe metal container. It must have a tight fitting lid to prevent the wind from stirring up the ashes and uncovering hot spots. Containers specific to this purpose can be purchased from a hardware store. Under no circumstances should the ashes be store in bags, cardboard boxes or any other flammable containers.
Once the ashes have been transferred to the safe, metal container, they should be wetted down to eliminate any hot spots. After sitting for several days, check the ashes again for any remaining hot spots.
Store the container full of ashes far from any structure or other combustible materials. Keep it away from firewood piles, wooden decks, garages and porches to prevent unintended ignition. After sitting for a full week in the metal container, you can safely dispose of the ashes in the regular trash for pick up.
All in all, stay smart about disposing of ashes after burning wood in your fireplace or stove. The hassle of waiting a few days to disturb them and moving them to a proper metal container for storage is absolutely worth it because it keeps your family and home safe. For more information on ash disposal, contact the experts at Tri County Hearth and Patio Center.