Looking to add a new fireplace or upgrade your current model? With the holidays just around the corner, now is the time to get it done, and if you live in or near Waldorf, then the team here at Tri-County Hearth & Patio can set you up right with the perfect unit for your living space. Discover more about our wide range of options below, and be sure to stop by our showroom, so that you can get a good look at all of our models up close before making any final decisions. We would be happy to help you throughout every step of this process!
Look For A Traditional Wood-Fueled Option?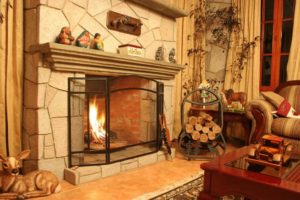 When you picture your ideal fireplace setup, do you imagine all of the sounds, smells, and warmth associated with an authentic wood-burning option? A wood-fueled appliance will definitely require a bit more hands-on maintenance, but many feel nothing beats a genuine crackling flame in their living space.
If this is the route you'd like to take, you'll need a spot to store logs, and you'll have to be knowledgeable on how to start, maintain, and extinguish a fire. You'll also need to properly dispose of your fireplace ash on a regular basis, and you may want to invest in a screen or door to ensure stray sparks and embers don't land on your carpet, drapes, or furniture.
One thing is for certain: a wood-burning fireplace will add a lot to the value and aesthetic appeal of your home. Having one built can be expensive and time-consuming, but there's no better route to take for someone looking for a more traditional setting in their home.
Need An Efficient Gas Unit?
Now, if you're looking for something mess-free and easy to use, a gas unit may be your best bet. These appliances switch on and off with the flip of a switch or push of a button, and they are super-efficient when it comes to producing heat for your home. If you have a jam-packed lifestyle, but still want to enjoy the ambiance of a cozy hearth, this may be the right option for you.
The best part about gas-fueled fireplaces and inserts is that they come with realistic-looking gas logs, so there's no worry about losing out on the old-fashioned ambiance. All in all, gas-fueled appliances are a great option for keeping your family warm and toasty without all the mess, stress, and maintenance involved with using wood.
Considering A Pellet Stove Or Insert?
Wish you could have the low-maintenance features of a gas fireplace, while still being able to use wood for fuel? Then, a pellet stove or insert would be the right fit for your household. These burn wood pellets to heat your home, which is a renewable resource and easy to store, and you'll get the efficiency you deserve only without the hassle of hauling and storing actual wood logs.
As far as operating your pellet-fueled unit, that's easier than ever, too! They come with a large hopper that automatically dispenses the fuel into the fire. Just fill it up, then sit back and relax! These operate for hours on end before needing to be refilled, so you'll easily be able to enjoy your evening stress-free.
No Chimney? No Problem! Invest In An Electric Appliance
If you don't have a chimney in your home, your dreams of owning a fireplace don't have to be erased. Why not invest in an electric option? These are affordable, easy to use, and as long as there's an outlet nearby, they can be placed just about anywhere you would like. There's definitely not that type of flexibility with a wood or gas-fueled option!
You also won't need to factor in the cost of a chimney sweeping or inspection because there's no chimney use involved. The one downside is that you won't get near as much heat as a wood-burning or gas-fueled fireplace. That being said, these are still a great addition to any home, and they are sure to keep you cozier on those chilly winter nights.
We Offer Fireplace Accessories, Too!
No matter what type of fireplace you decide on, you'll need accessories and add-ons to truly make it your own. We have everything you need to personalize your new focal point to your liking. From mantels to glass doors to toolsets and more, we'll have you covered and set up right in no time!
Our Professionals Are Here To Help
Our team of chimney sweeps is experienced and knowledgeable, and we would love to answer any and all of your questions regarding your fireplace options. Please reach out today, so we can point you in the right direction, and be sure to stop by our showroom, as well, where are floor team is ready and eager to help you with this process. We're associated with top-notch organizations like the CSIA, the HPBA, the NBBQ, and more, so you can bet we know our stuff.
Let's make this your best holiday season yet. Invest the perfect fireplace today!