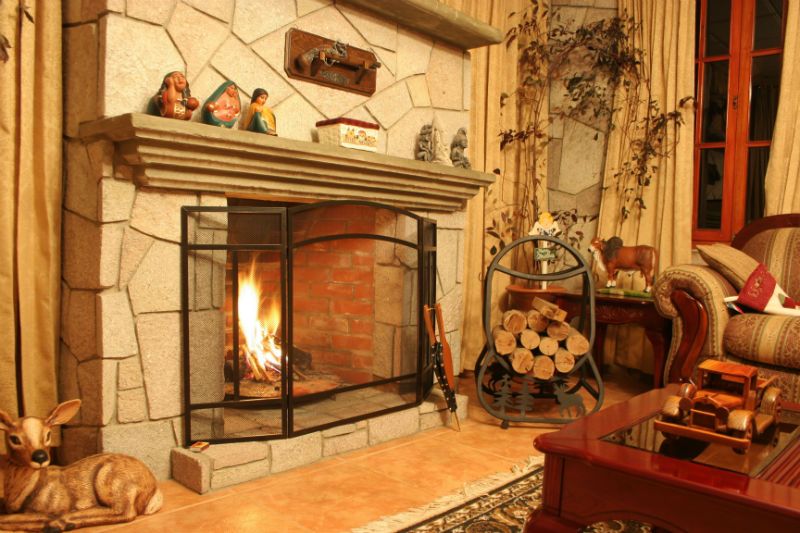 There's no shortage of fireplace accessories, but there's one accessory your fireplace should not be without this winter: A metal fireplace screen. Metal fireplace screens can help keep your home safe from damage or the risk or a fire while dressing up the look of your hearth.
Keep your home safe with a fireplace screen
People who love open-hearth fireplaces love the gentle crackling and popping that fills their home each time a fire is lit. The crackling of the fireplace is, in fact, part of the overall sensory experience of an open-hearth fireplace. That relaxing crackling and popping, however, can come with a bit of risk. When the fire inside your open-hearth fireplace "pops," it can send burning embers flying right into your home's living space, where they can damage rugs or flooring or furniture, ignite nearby flammable materials or burn anyone sitting too close to the hearth. A fireplace screen serves to keep those embers contained. With a fireplace screen, you can enjoy the crackling and popping of your fireplace while knowing that your family, home and belongings are safe.
Dress up your hearth
Fireplace screens aren't just functional; they can be beautiful, too! Fireplace screens can dress up an otherwise plain hearth or enhance the style of an already stylish or elegant hearth. Fireplace screens come in a variety of styles, from the simple to the ornate and from the modern to the traditional. With a fireplace screen, you can tie your fireplace into your home's décor while keeping your home safe from your crackling fireplace. There are simple bowed screens to set in front of your fireplace, ornate tri-paneled screens and functional fireplace screens with swinging doors that allow you to tend your fire without having to fuss with your fireplace screen. With the many options of fireplace screens, you are sure to find one that fits your taste, or you can even have one custom made just for your hearth!
Shop fireplace screens at Tri-County Hearth & Patio Center
If you are ready to enhance the safety and beauty of your fireplace with a fireplace screen, stop by the Tri-County Hearth & Patio Center showroom to see all of the beautiful fireplace screens we have to offer! At Tri-County Hearth & Patio Center, we carry high-quality fireplace screens from the hearth industry's top brands, including Pilgrim and Stoll. Our fireplace experts can help you find a stylish and beautiful fireplace screen to fit your hearth and your taste. When you select a fireplace screen from Tri-County Hearth & Patio Center, you will be investing in a hearth accessory that you'll enjoy looking at all winter long while keeping potential dangerous embers securely in your firebox.