Do you love grilling and long for the perfect grill — the one that will allow you to cook a variety of foods using a variety of outdoor cooking techniques? Tri-County Hearth & Patio has the grill for you: The Big Green Egg!
What is the Big Green Egg?
The Big Green Egg is an air-tight ceramic grill fashioned after the ancient grills first used as all-purpose cookers. The Big Green Egg is fueled by charcoal or wood and features a unique domed shape. A patented draft door and vent cap allow you to perfectly control the temperature of your Big Green Egg.
How can you cook with the Big Green Egg?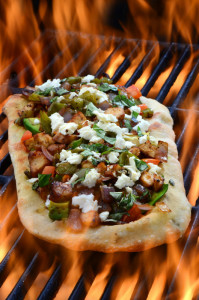 When it comes to versatility in an outdoor grill, nothing beats the Big Green Egg. The Big Green Eggs allows the outdoor chef to utilize the cooking technique he or she needs to perfectly cook every dish. With the Big Green Egg, you can cook foods in a variety of ways, including:
 Direct grilling. Direct grilling is the classic grilling technique, in which you take a tender, boneless cut of meat and sear it directly over heat to lock in flavor and moisture, and create a pleasant charbroiled crust. With direct grilling, you can also experiment with making one-pan dishes that require high heat, like stir fries.
Indirect grilling. As the name implies, indirect grilling away from the flame to cook foods at lower temperatures for longer. With the Big Green Egg, that can be accomplished either by placing a drip pan or convEGGtor under the food to block the heat source. With the Big Green Egg, you can even vertically roast foods to get a rotisserie effect that keeps foods moist and flavorful.
Smoking. With wood chips and the ability to control the temperature of the Big Green Egg with vents, you can cook your meats "low and slow" to capture an authentic barbecue taste. Smoking turns rough cuts of meat tender and delicious, and can impart a delicious, unique taste into you vegetable dishes.
 Baking. Believe it or not, you can even bake in your Big Green Egg by adding a convEggtor and a pizza and baking stone. You can make breads, grilled desserts and pizzas that taste like they came straight out of the wood-fired grill.
What food can you cook in the Big Green Egg?
There's almost nothing that can't be cooked in a Big Green Egg. You can cook meats in a variety of traditional grilling and smoking techniques, and you can make side dishes, casseroles, pizzas, desserts and more! The Big Green Egg website offers plenty of recipes to inspire your culinary skills.
How can you learn more about the Big Green Egg?
If you think the Big Green Egg is the right grill for you, visit Tri-County Hearth & Patio today! We are Southern Maryland's Big Green Egg dealer, and we are happy to show you your Big Green Egg options and help you learn more about cooking with the Big Green Egg.