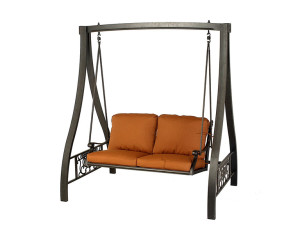 As summer comes to close with the cool autumn weather ideal for outdoor leisure right around the corner, it may be time to consider a bench or a frame swing for your backyard paradise. Perfect for enjoying the outdoors, it's not hard to picture yourself admiring the cinematic display of color-changing leaves while relaxing lazily in your luxurious front row seat. You imagine yourself swaying gently in a swing, reclining with a book and beverage and feeling relieved from the bustle of your everyday life. Concluding your daydream, you wonder where to find the perfect bench or swing to make your daydream a reality for the upcoming fall. That's when you recall the Hanamint furniture at Tri-County Hearth & Patio.
As one of the world's top outdoor furniture brands, Hanamint offers high quality benches and frame swings that demonstrate durability through years of weather without ongoing maintenance. With a weather-resistant finish, you don't have to worry about worn out furniture detracting from your garden's appeal as the years progress. As a proud carrier of Hanamint furniture, Tri-County Hearth & Patio offers a large selection of colors to match your existing outdoor décor.
Now that you know where to find the best bench or frame swing for your backyard, you may want to consider the benefits of this addition.
A bench or frame swing offers a comfortable and peaceful getaway in your very own backyard.
It provides a great lounge spot for your family and friends to relax and socialize together.
Great for both children and parents, a frame swing or bench encourages sharing by creating a space that can be enjoyed by more than one person at a time. Even more, parents can reap the benefits of this outdoor addition by gaining a place to sit while watching the children play.
If the heat is too high but you're still looking to enjoy the great outdoors, you can stay cool under your frame swing's canopy.
You have the opportunity to add more style to your backyard décor.
It is a perfect place to sit back and admire your backyard's scenery. After all, you work hard to create a charming garden.
Unlike a hanging swing, which relies on adherence to another structure, a frame can sit anywhere in your yard since it is anchored to the ground.
Even more, according to the Porch Swings guide blog, an outdoor swing offers a number of health benefits. The gentle and relaxing rocking motion of an outdoor swing can reduce stress levels, enhance circulation, and increase concentration. Also, owning an outdoor swing can encourage you to get outdoors when you might otherwise stay in. In turn, the sunlight provides your body with the vitamin D it needs and even encourages endorphins so that you feel both happier and healthier.
With all the chaos and stress of contemporary life, you deserve to turn your daydream into a reality. To find the bench or frame swing to best suit your backyard paradise, stop by Tri-County Hearth & Patio in Southern Maryland today to shop the splendid selection of Hanamint furniture.