Do cold, dreary winter days have you dreaming about the warm summer sun? Have you been daydreaming about time spent relaxing, entertaining or cooking in your outdoor space? Tri-County Hearth & Patio can help transform your winter daydreams into a summer reality.
Furnish your patio for function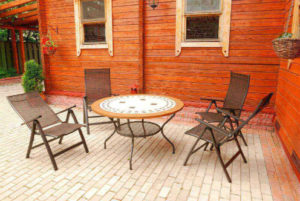 A great outdoor space begins with great furniture. Your lifestyle and space will determine what type of furniture you need for your outdoor space. At Tri-County Hearth & Patio, we have all of the furniture you need to create a functional and beautiful outdoor space. We have couches and lounge chairs for relaxing, dining sets for eating, and bistro sets for small spaces. If you have a larger patio space, you can create even more function with "zones" for different function, much like you would arrange different rooms in your home.
Create style with accents
While furniture brings function to your outdoor spaces, accessorizing your patio can make it feel more inviting and stylish. You can add pops of color to make the space standout. You can also add pillows and rugs to include pattern, texture and comfort. You can even add interesting pieces of décor, outdoor drapes, and light fixtures. All of these ideas can transform your patio into a beautiful and dreamy outdoor living space!
Warm your patio with a firepit, fireplace or outdoor heaters
Are you longing to get out and enjoy your patio? You can spend even more time on your patio with an outdoor firepit, fireplace or heater. Firepits, fireplaces and heaters warm your patio so you can spend time outdoors even during those cold days. They also give light that can add ambiance to your patio and help you see. Firepits and fireplaces are also interesting anchor points for outdoor spaces, as they help create spaces for people to gather and relax.
Make the perfect barbecuing hot spot
At Tri-County Hearth & Patio, we offer a variety of grills. We know barbecuing is a sport for every homeowner. You can also add simple accessories to upgrade your grills. We can even help you create a full-scale outdoor kitchen that works as a summertime extension of your home.
Warmer temperatures and sunny days will be here before you know it. If you are daydreaming about spending time on your patio or deck, let Tri-County Hearth & Patio turn your dreams into a reality. Stop by our showroom today and find the furniture, grills and accessories you need to transform your outdoor living space.