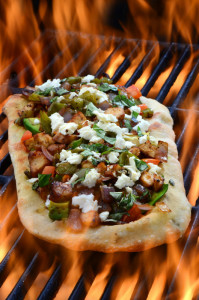 You've likely mastered hotdogs, hamburgers and brats, and even advanced to the more challenging steaks and chicken breasts.
If you want to take your grilling to the next level, grilled pizza can be a fun and satisfying culinary adventure.
Why grill pizza?
You may think your oven is the natural habitat for a pizza, but a grill, in fact, creates a more ideal condition for cooking the perfect pizza. That is because grills reach higher temperatures than standard ovens, they can create the perfect crust: slightly charred, crispy and a little chewy on the inside. If you're still not sold on the concept, consider the growing trend among boutique pizza restaurants: the wood-fired oven. The trend is based on the concept of creating the hottest oven to cook the best pizza.
Setting yourself up for pizza success
Having everything ready to go for your cooking experience can be the key to a perfectly grilled pizza.
First, you'll need to prepare your dough. A quick search will turn up many recipes for pizza dough, or you can use store bought, if you prefer. Flatten your crust to your desired thickness and shape. Have your toppings ready to go, but don't put them on the pizza yet. You can top your pizza with your favorite traditional standbys, fresh summer vegetables, or you can get creative and try the less conventional, such as a Thai-flavored pizza or a barbecue chicken pizza. One of our favorite pizza recipes is Hop's Hawaiian BBQ Chicken Pizza from Big Green Egg that always is a treat.
Once your pizza is made, it will be time to get the grill ready while the pizza dough is proofing.
Grilling your pizza
You will need to have olive oil close by, as well as grilling tongs. To perfectly char your crust and keep it from sticking to the grill:
The grill should be preheated to at least 550 degrees.
Brush one side of your pizza with your olive oil, and place that side down on the grill.
With the lid off, grill your dough until it is browned and charred to your preference, approximately three minutes.
Brush the side of the dough that is face up with olive oil.
Next you can either remove the dough from the grill and top the already grilled side of the pizza, and then return your pizza to the grill, or you can flip your dough and quickly top the pizza right on the grill.
Close the lid, and grill for another three minutes, until your cheese is melted and the bottom crust reaches your desired level of crispiness.
Finally, enjoy your crispy, gourmet-style homemade pizza.
Once you've mastered the basics, you'll probably want to experiment. Try knew crust recipes or new toppings. Grilling pizza can also make for a fun summer party: Come up with a few different recipes to serve to your guests, or make smaller dough rounds and set out a buffet of toppings for your guests to choose from. If you keep pizza dough, either store bought or your previously homemade dough, in the freezer, you can have a quick and delicious go-to summer meal on hand. Grilled pizza is just one more way to enjoy your grill when you've grown tired of the barbecue basics.
For a great grill, stop by Tri County Hearth & Patio Store in Waldorf, MD where you will find a large selection of quality grills. Weather you like to cook with gas or charcoal, both make great fuel for cooking pizza. Pellet grills are also great for both wood fired flavor and heat control.