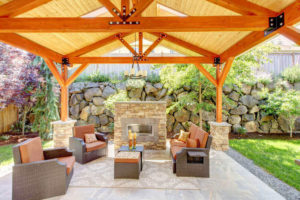 Your patio is an extension of your home, and your outdoor living space should be just as cozy as your indoor living space. With the right decorating in your backyard, you can be ready for summer by turning your patio into a cozy outdoor space. Here are some ideas on how you can make your patio more comfortable for a summer full of relaxation.
Start with comfortable seating
If you're looking to make your backyard cozy and relaxing, you need a soft place to sit. Outdoor sofas, lounge chairs, and cushioned love seats are all comfortable places to relax. Consider adding a hammock; it's the perfect place to relax on a beautiful summer afternoon. And don't forget to accent your comfortable furniture with side or coffee tables; you'll want a place to set your drinks, a plate of food, or books and magazines when you're relaxing outside.
Decorate with pillows, rugs and other accents
The same things that make your indoor living spaces comfortable can be used to make your backyard living space more relaxing. Lay down an outdoor rug. Accent your seating areas with comfortable outdoor pillows. If you have an appropriate space for it, consider hanging some outdoor drapes. All of these elements will provide color and texture to your backyard, make it more inviting, and add comfortable touches that will make you want to take off your shoes, sit back, and relax.
Create some shade
The summer sun can be nice, but it also can become unbearable. A lack of shade in your backyard can make it uncomfortable on hot summer afternoons. Find ways to create shade, particularly over your seating areas. You can make use of natural shade and place your patio furniture in spots you know will be in the shade during the hottest parts of the day. If no natural shade is available, create your own with an umbrella, an awning, a pergola, or a sail shade.
Consider an outdoor heat source
Just as the sun can make your outdoor living space uncomfortable during the day, a lack of heat on your patio can send you indoors when nighttime temperatures drop. To add to the ambiance and comfort of your backyard, consider adding a heating source. Fire pits, outdoor fireplaces, and outdoor heaters can add warmth and comfort to your backyard on a chilly night, and they can provide a relaxing glow that enhances the atmosphere and the enjoyment of your patio.
Landscape
Part of the enjoyment of relaxing outside is being in nature. Take advantage of being outdoors by adding to the style and comfort of your backyard with landscaping. Flowers brighten any backyard, trees add shade, and climbing plants can add a whimsical feel along with increasing privacy on your patio. Don't leave the plants to the natural part of your backyard, bring those elements on to your patio or deck with flower boxes and potted plants.
If you need help making your backyard living space more inviting and cozy, stop by the Tri-County Hearth & Patio Showroom today! We have all of the outdoor furniture and accessories you need to create a comfortable outdoor living space, and our patio experts will be on hand to provide you with decorating tips for the perfect patio.