We Proudly Offer Yeti's Best Coolers & Accessories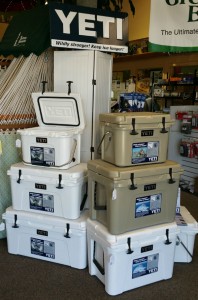 When it comes to accessories and equipment for the great outdoors, functionality and durability are the two most important qualities. And with Yeti®, you get the toughest, most durable, and arguably, the most attractive outdoor accessories available. Here at Tri-County Hearth & Patio, we offer Yeti's finest products, including:
Tundra Coolers – Yeti's original and best cooler, the Tundra, is constructed of a single piece of polyethylene and can withstand all types of abuse and conditions. With the Tundra, you'll enjoy textured grips and Doublehaul™ marine-grade nylon rope handles. The Tundra also features 2-3 inches of Permafrost™ insulation, Bearfoot™ non-slip feet, and a Vortex™ drain system. These coolers are also bear-proof, so whether you're going for a weekend camping trip or a big hunting trip, we've got a Tundra to meet your needs. We carry the Tundra 45, 50 and 65 in a variety of colors – check them out!
Roadie Coolers – The Roadie brings all of the toughness and quality of Tundra in a compact, personal size. These coolers are great for beach days, fishing and camping trips, job sites and obviously road trips. They will keep your beer and sandwiches cooler, longer. They also feature a stainless steel handle for easy carrying.
Hopper Coolers – Although it's technically a "soft-sided" cooler, the personal-sized Hopper cooler is built Yeti® tough out of puncture-resistant, leak-proof materials. As with all Yetis, with the Hopper you'll enjoy inches of insulation designed to keep your food and beverages cold for days. We carry the Hopper 20, which can hold up to 12 cans of beer or up to 20 pounds of ice, and comes with both hand and over-the-shoulder straps.
Rambler Drinkware – When you're out in the wild or putting in a long day at the job site, nothing refreshes like a drink that's just as hot or cold as it was when you left your house hours earlier. With Rambler Tumblers and Colsters, you'll never have to drink a lukewarm beverage again. Yeti's durable, insulated, stainless steel drinkware is designed like every other Yeti® product – to last and last.
Security Locks – There's no better way to protect your investment in a quality Yeti® cooler than by purchasing a Yeti® security cable lock and bracelet. These adjustable locks and durable cables are designed to keep your Yeti® cooler where you put it, no matter how badly someone else may want it.
If you have any questions about any of our Yeti® products, feel free to give us a call at 301-843-1771 or stop by our store just off Highway 301!
Consider the added enjoyment you'd experience with a portable outdoor music system. Ask for more information from our outdoor accessory experts.